Searching for a good drama to start watching? Let's look at some of the dramas that are airing as well as the dramas that will soon be coming. Let us know what you are watching in the comments below and also let us know what you think!
This specific list is for Chinese and Taiwan dramas. However, I have put up many more upcoming dramas from other countries such as Korea and Japan that I'm sure you would enjoy in my personal blog.
Upcoming Dramas
Sixteen year old Mogami Kyoko sacrificed her life to support her boyfriend, Sho, so he could become a successful singer. One day, Sho suddenly breaks up with Kyoko, leaving her with nothing, and Kyoko vows revenge. She decides to delve into the entertainment world and become even more successful than Sho to get back at him. Kyoko therein meets Ren, another actor in her agency, who helps motivate her to become a top entertainer.
A drama coming from a Japanese manga, produced by Taiwan, and starring two members of the popular Korean boy band Super Junior, this drama is what you may call an "Asian Fusion" show. I really have high hopes for this drama. I remember reading the manga a long time ago, and the fact that I'm familiar with all three of the main actors is just marvelous. It's supposed to be filming this March, so I'll be keeping an eye on it.
Wu Chun plays a second generation entrepreneur who ended up living in the streets after going bankrupt and Rainie plays a maid.
Unlike most GTV idol dramas that have been adapted from manga or fiction, the new series will be based on an original screenplay.
Although I'm not that interested in the drama, I'll probably give it a try once it starts airing (sometime in 2011).
Xuan Feng Guan Jia (Hayate the Combat Butler)
George Hu
plays a man who is buried by his parents' gambling debts. With no way to pay back the money, he thought about going to the dark side by getting into the kidnap and ransom business. But instead of becoming a kidnapper, he ended up saving a girl from a real kidnapping. The girl turned out to be the sole heir of a conglomerate who faced these kinds of threats every day. In a case of kidnapping gone wrong vs. mistaken love confession, she hires him to be her butler and helps repay his parents' debts. Grateful to have gangster collectors off his back, he vows to protect her from harms, which is no easy task.
This drama is going to be from the manga Hayate the Combat Butler. I never read it, but I have heard good things about the anime.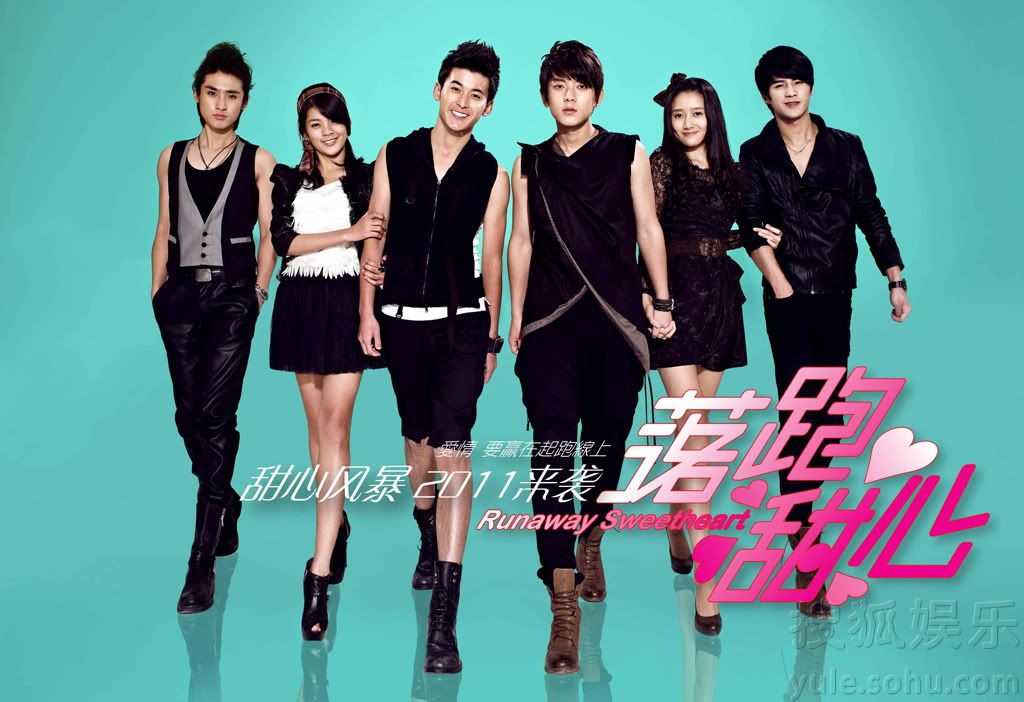 Looking for new gossip? Try moving beyond the Upper East Side to a certain school on the other side of the world. Dan Humphrey's alter ego, Dan(or Shan?) Hanfei, just got a new roommate, Shulei/Serena, and he (or should we say, she) is stirring up drama in the all boys' college of Hua Gang. Swimmer Chuck is seriously questioning his sexual orientation, and even hottie Track Captain Nate is interested in this newcomer.
Although I like gender switch dramas, I'm not completely sure about this one. We'll just have to see how it turns out.
Now Airing
Xiao Feng is a lively girl starting her first year of university. Her life is turned upside down by the arrival of her new neighbors: Yi Cheng and Da Ye who live above her. Their arrival also becomes one of the hot topics in university. After Xiao Feng starts to get along with Da Ye, Xiao Feng realizes that she has fallen in love with Da Ye. However, Da Ye doesn't have any feelings for Xiao Feng as he treats every single girl the same way. One day she finally confesses to Da Ye but gets rejected. Meanwhile Ah Yi sees her going after her love bravely. He starts to fall for her. Da Ye sees the both of them get closer and closer day by day and starts to feel uneasy. What is the exact meaning of "LOVE"? A triangle-love relationship by three of them which includes friendship and the family.
I'm currently watching this drama and it seems interesting so far. It's based off a manga.
Sunny Happiness
For the new drama, Mike plays a young owner of the hotel and is involved in a relationship with Janine Chang, whose role is housekeeping at the hotel.
As a student, Xang Yun Jie had a great love story and ended up getting married. When an eight year old child appears as his son, his expertise in business is useless. He can only rely on a girl that is tied to him by a paper marriage. What will they do when their feelings develop? When their contract ends, will they be able to see a sunny day?
This is a drama I am currently helping to segment. I haven't had the chance to watch any of it since I've been too busy, but it's now airing so I'll probably watch the first episode soon.
Xie An Zhen was happily married with one daughter until her husband cheated on her with her cousin. And the ensuing divorce became a battle of love and wits.
On the day he was to expose the biggest corporate scandal, An Zai Yong,
the face of BIGTV News, was arrested for killing his girlfriend.
A trial by media caused him his career and led his friends to betray him.
In his darkest hour his only ally was his foe, tabloid reporter Hong Xiao Lu.
Together they would dig for the truth and discover who framed him.
I'm sure there are many more but my wrists are getting tired so I'll leave it at that. Let me know what you are watching or waiting for!
tubeobsessed.blogspot.com